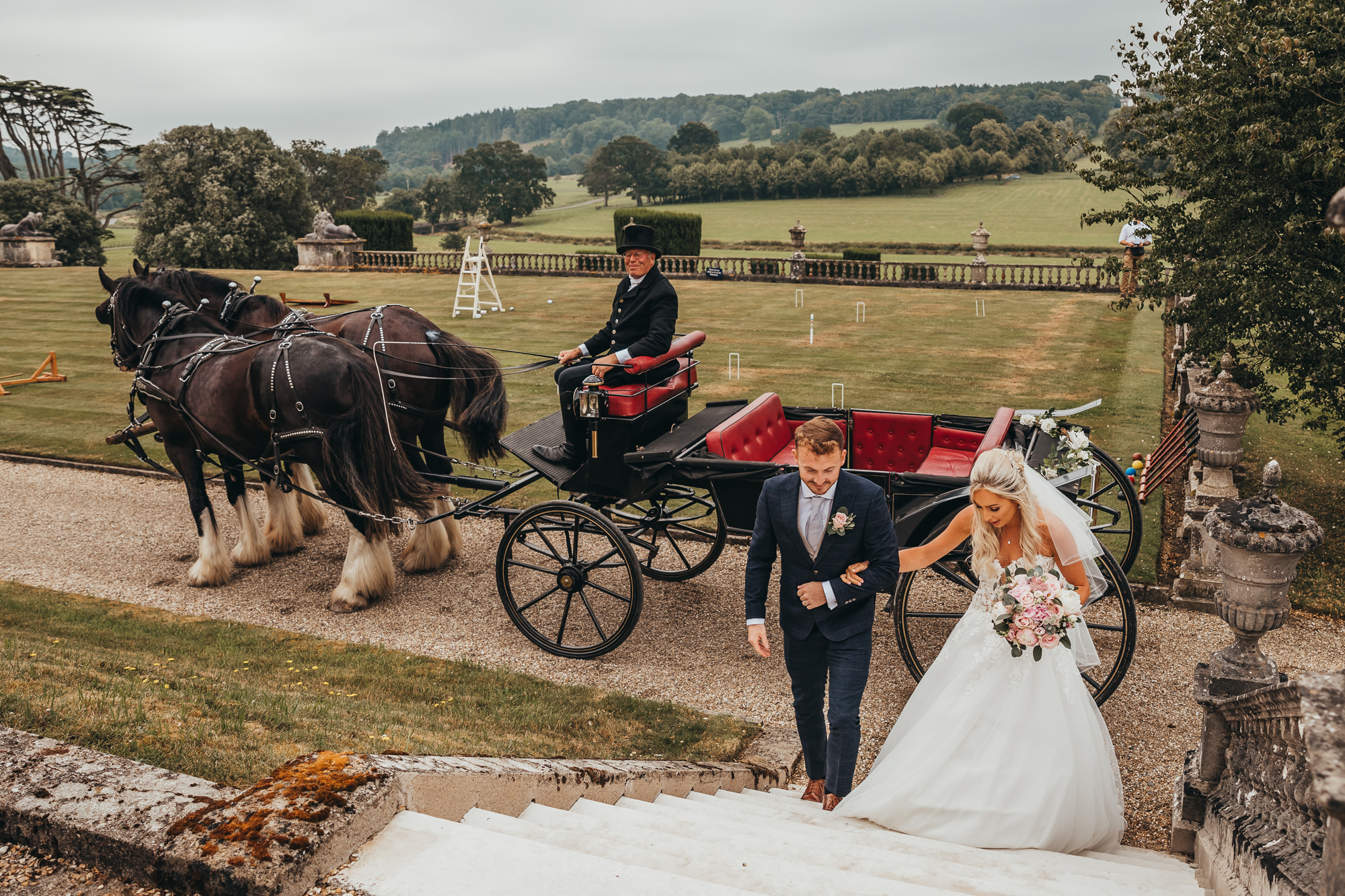 Kelly and Ryan – Planning a Wedding during a Pandemic
Kelly and Ryan were our first couple to get married and hold their wedding at Castle Hill following the COVID-19 pandemic, which posed a lot of changes to couples getting married in 2021. The bride and groom were married in July 2021, 5 days after government restrictions were finally lifted.
The couple were married in the local church, St Paul's just a few minutes down the road from the venue and they had their wedding reception of dreams in the West Wing at Castle Hill. The couple arrived in style as a surprise horse and cart transported them from the church to the grounds of Castle Hill. Below we spoke to Kelly about their 'story', inspirations for their big day and plans they had to change due to the pandemic.
Hi Kelly, please can you tell us a little about the 'Proposal'?
We got engaged in Chicago, my favourite place to travel. I used to travel with work regularly and my favourite destination was Chicago, so me and Ryan decided to book a trip there to explore the city together. It was February 2018, so the city was thick with snow. We went on a trip to the 103rd floor of the Willis tower, they have a sky deck which overlooks the city, we stepped out onto the glass Skydeck and that's when Ryan proposed. It was so unexpected and I always wonder how he managed to keep it a secret, even hiding the ring for so long and getting it through customs without me seeing it in the security tray.
How did you choose Castle Hill as your venue?
The evening of the day we got engaged we went for dinner, and talked about wedding plans and I said to Ryan about Castle Hill and how it was probably the only place I have ever dreamt of getting married. I can't explain the feeling, but I think when you find your venue, you just know, it gives you a warm fuzzy feeling. When viewing the venue along with others, Ryan quickly agreed how wonderful Castle Hill was and how special it would be having our wedding there. Castle Hill will forever have a special place in our hearts. 
amychapplephotography 
amychapplephotography 
amychapplephotography 
What was the hardest part about planning a wedding and getting married during all the restrictions?
The hardest part was the anxiety of waiting for the restrictions to be lifted, the frustration of not knowing how many people could attend and that it not being the day we imagined. We thought, this is so much money to spend for it not to be how we want it to be. The restrictions were due to be lifted 5 days before our wedding, although we had so many reservations with COVID numbers rising about whether this would go ahead, so found it hard to invite people, some were invited as little as five days before the day just so we knew the restrictions were lifted for certain and we wouldn't have to retract any invites. As the day approached, our mindset changed, we knew we were going to get married in July 2021 no matter what, no matter how many people could attend, I think the lockdown made us realise what is important in life and that to us is having our close family friends around us and our love for one another. Not how many people we could dance the night away with, however much we wanted that. Another part that we found incredibly difficult was suppliers cancelling at such short notice, as little as two days before!! I am grateful to Castle Hill for supporting me and helping me find new suppliers. All in all, the day turned out even more beautiful than we ever imagined and we believe that the changes in suppliers all happened for a reason, making it the day we were supposed to have. We were so lucky that the restrictions were fully lifted on the Monday before the wedding.
Were there any positive outcomes to having to make changes to your wedding day?
Every change we made was a positive, even if at the time it didn't feel like it. The bar being the most important one, we were initially having a bar situated inside the west wing but they had to cancel so we managed to find a wonderful horse box bar (gatehouse trailer bar) and this meant the bar was outside, this worked perfect for us as it meant our guests were more spread out, using the courtyard, the west wing and the front lawn.
amychapplephotography 
amychapplephotography 
amychapplephotography 
Did you have a theme/colour palette, what inspired this?
Our colour theme was sage green, I thought this was a soft colour and suited all my bridesmaids skin tones. With my favourite colour being pink, I tied that in by having the flowers mostly pink, and dressed the tables with pink runners. I felt the two colours really complimented one another. I also loved the lighting castle hill provided, they were able to customise the lights to the colours we wanted so we went with white, sage green and pink on a loop. It was beautiful.
Were there any surprises on the day for either bride or groom?
Yes, we had no idea about the horse and cart. What an amazing moment I will never ever forget, I remember walking out the church doors and seeing the horse drawn carriage there and thinking 'what on earth are those horses doing there' and burst into tears. Such a special surprise.  
Being driven through the village to castle hill, we felt like royalty. Everyone driving past waving and giving us well wishes. What a beautiful moment.
What was the most memorable/favourite moment of the day?
Wow that is so hard to pick just one favourite moment, I think the whole day from start to finish was my favourite. I often find myself thinking back to the day, wishing we could do it all over again. When people say to you 'it's one day of your life, you can never relive it' you truly do not understand the meaning of it until it the day is over. I remember waking up the next day thinking 'that's it, we will never get that moment back'. Now we have the precious memories, photographs, video and the joy of driving past our wedding venue daily bringing back a lifetime of treasured memories.
Any advice to others planning or getting married during pandemic?
Everything happens for a reason is what I take away from our wedding day. I worried so much about the littlest of things on the lead up towards the wedding, when really all that matters is the love you have for one another and saying Yes to FOREVER. At the end of the day you cannot stress about the things you cannot control, what will be will be and no matter what you will have the most perfect day that is meant for you.
amychapplephotography 
amychapplephotography 
amychapplephotography 
The Suppliers
Photographer: @amychapplephotography  – Thank you to the hugely talented Amy Chapple who supplied all of the incredible photographs for this blog
Venue: @Castlehilldevon
MUA: @nadiahopemua
Hair: @jocadogan.hairstylist
Dress shop: @prudencegownsplymouth
Dress designer: @morileeofficial @morileeuk
Suit: @mossbros
Flowers: @theflowershop_southmolton
Stylist: @bestdayeverdevon
Bar: @gatehousetrailerbar
Caterers: @julies_catering_services